TE-8105 is an ultralong-acting human GLP-1 receptor agonist (peptide segment #7-37 of native human GLP-1), in which alanine at position #8 is replaced by 2-aminoisobutyric acid and lysine at position #26 lysine is conjugated with a fatty acid bundle containing 2 long-chain fatty acids, a C16 acid and a C18 diacid. TE-8105 has been compared with semaglutide, which is modified with one C18 diacid at #26 lysine residue, for various effects.

In db/db mice and diabetic rhesus monkeys, TE-8105 could reduce elevated blood glucose for longer periods and at lower dosage than semaglutide. In db/db mice, TE-8105 could effectively maintain euglycemic condition and lower HbA1c to normal levels with a q4d regimen.

In diet-induced obese (DIO) mice, TE-8105 could reduce body weight more effectively than semaglutide in a q4d regimen. In mice, TE-8105 had a t1/2 of 15 hours, compared to 7.5 hours of semaglutide. We expect that TE-8105 has the potential to be dosed every two weeks (q2w) for type-II diabetic patients and patients with obesity and fatty liver diseases.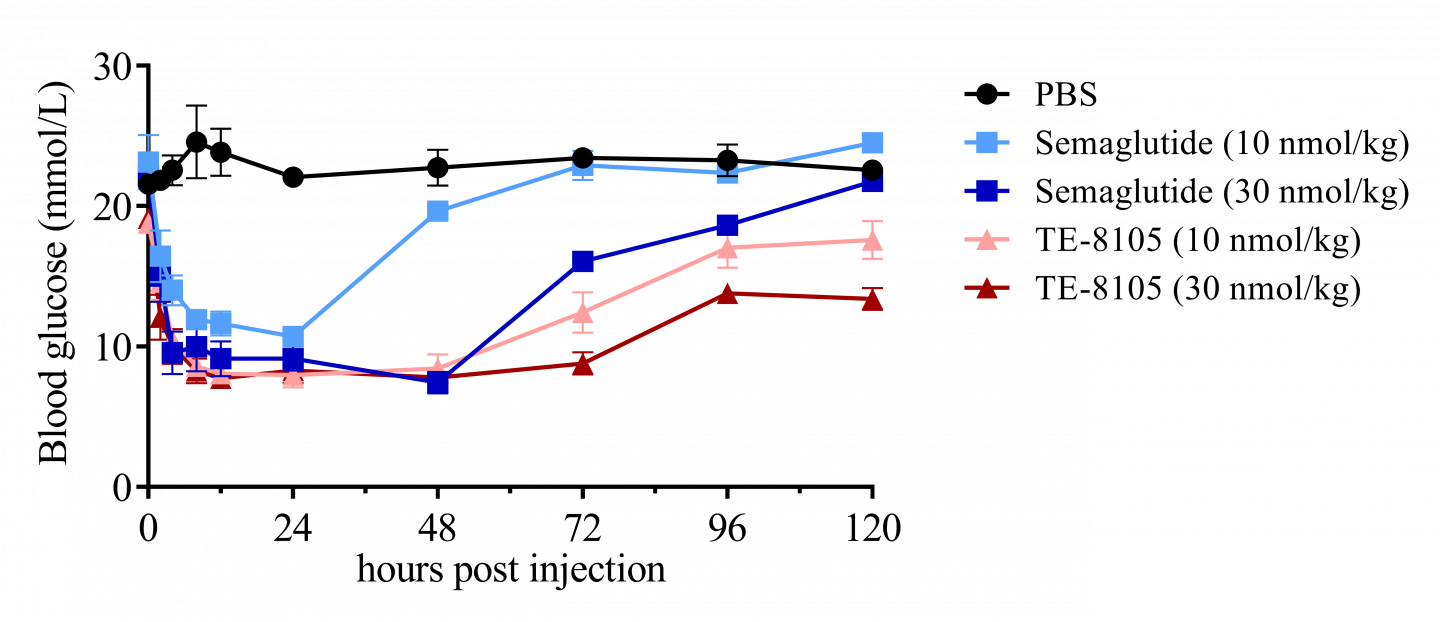 TE-8105 controlled blood glucose levels in diabetic db/db mice with a longer duration and a smaller dose than semaglutide (a single dose for each).


TE-8105 controlled blood glucose levels and decreased HbA1c more effectively in db/db mice than semaglutide in a q2d regimen (injections made on day 0 and every 2 days until day 58). (ANOVA with Tukey's multiple comparison tests, * p<0.05, ** p<0.01, *** p<0.001, **** p<0.0001, ¶ p=0.1083)

TE-8105 reduced body weight of DIO mice more effectively than semaglutide in a q4d regimen (injections made on day 0 and every 4 days until day 36). (ANOVA with Tukey's multiple comparison tests, * p<0.05, ** p<0.01, *** p<0.001, **** p<0.0001)